Protecting Employers Since 1985
As our readers know, a significant portion of our practice here at Wessels Sherman is devoted to representation of employers in cases involving labor unions. This runs the full spectrum from remaining union-free to dealings with organized labor involving negotiations, arbitration, strikes, picketing, boycotts, and virtually all matters coming under the general description of labor-management relations. In connection with this we keep a close eye on what is happening with labor unions. Here is an update:
Mechanics Local 701 Business Representative election
Local 701 has a procedure that is different from most labor unions. It requires that all business representatives must run for re-election. These elections are held every four years. The most recent election was on August 1st.There were 14 candidates for 9 business representative positions. All 9 Local 701 incumbents prevailed in the election. The current elected business representatives for Local 701 are as follows:
Anthony Albergo
Armando Arreola
Sam Cicinelli
Walter Emerson
Mark Grasseschi
Terry Kimmel
Bob Lessmann
Ken Thomas
Mark Utley
John Coli Federal Indictment
Mr. Coli was the long-time head of Teamsters Local 727 and in recent years also held the position of President of Joint Council 25. About a year ago Mr. Coli was indicted for an alleged extortion scheme. The alleged extortion involved $325,000. He has resigned his IBT positions. Most recent news is that Mr. Coli's attorneys are involved in on-going negotiations with federal prosecutors on a plea bargain deal. Mr. Coli, if convicted, faces a 20 year prison sentence.
SEIU Local 1 Window Washers Strike
The much publicized metro Chicago window washers strike has ended. The bargaining dynamics were a bit unusual in that it was not traditional multi-employer bargaining, but coordinated bargaining. In other words, the companies that were part of the group all participated in the negotiations jointly but were negotiating individual contracts. The group consisted of the larger Chicago-area window washing companies and a large number of the smaller organizations did not participate. These window washers handle the high-tech scaffolding type operations on Chicago high-rises. The new contract raised wages over a five year contract term from $20.50 per hour to $26 per hour. The deal included life insurance benefit increases and increased employer contribution for health insurance. The previous contract had employer contributions capped at 60%. Starting pay was increased from $12 per hour to $16. All parties issued statements after the settlement that it was a fair deal for everyone.
Operating Engineers Local 150 Strategies
Local 150 continues to use the strategy which we regularly refer to as "rats, banners and street theater". They rely on the 2010 Eliason & Knuth case which gives unions pretty much a green light to engage in secondary boycotts as long as they are not picketing. That Obama Board decision relied primarily on free speech theories. The normal strategy is to put up a large rat at the premises of a neutral employer that often says something like "Shame on you". In other words, there is disruption and demonstration in front of the neutral employer's premises and the whole objective is to have that neutral stop doing business with the primary. For unions, it is a way around the secondary boycott provisions of the National Labor Relations Act. But, with the new pro-business Board now in place, it is likely that this strategy will have a pretty short life expectancy. We anticipate that once the new Board finds an appropriate case they will overturn Eliason & Knuth and find this type of activity to be an illegal secondary boycott. Below is a picture of a typical Eliason & Knuth scene.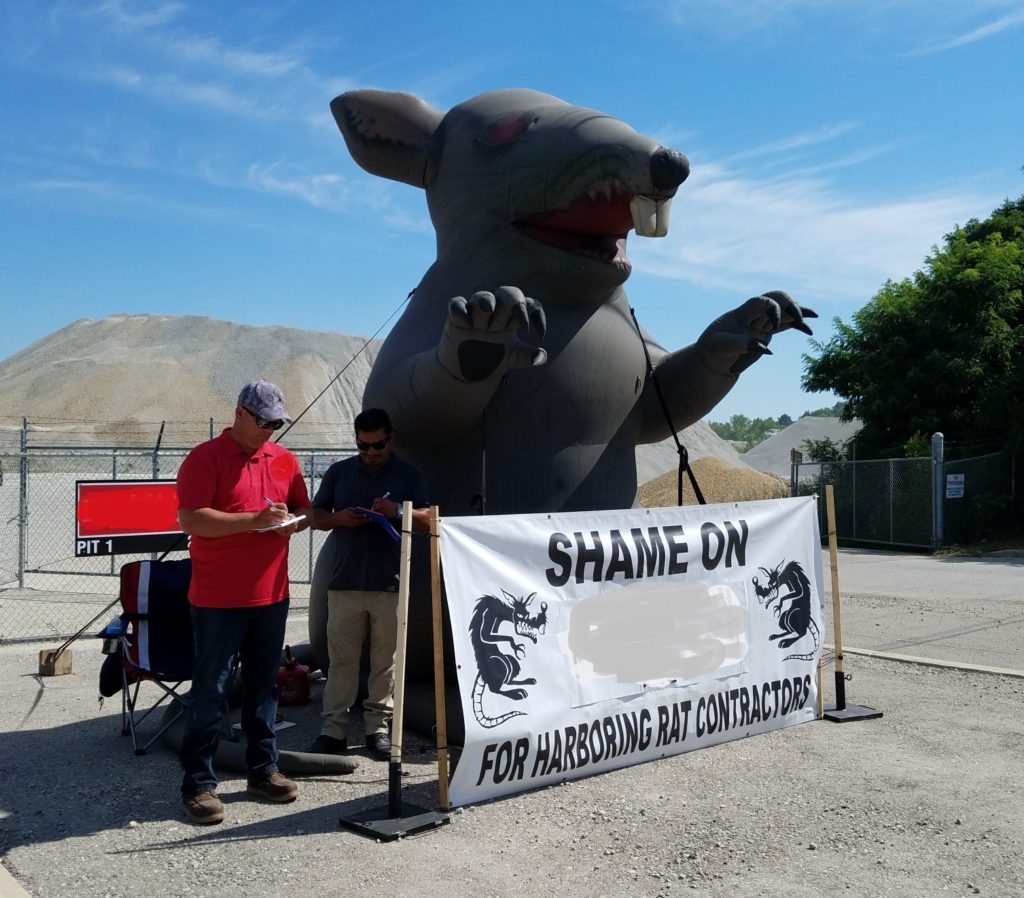 Janus Decision and Governor Rauner
Unions are pulling out all stops to defeat Governor Rauner in November. They blame him for the Janus decision. That US Supreme Court decision prohibits public sector entities from having laws that require non-members to pay fees. In simplest terms, it places unionized public sector employees in the same status as private sector employees in right to work states. This decision will have a major financial impact on unions, particularly those focusing almost entirely on public sector employees. AFSCME Council 31 is the major player in Illinois with 75,000 public sector employees in Illinois including about 40,000 who work directly for the State of Illinois. How big an impact this will have financially on unions is unclear. Of course, it will also affect traditional private sector unions. Many of them such as the Teamsters and SEIU have a substantial number of public sector employees under contract. In a well-researched article, the New York Times estimates that, given the choice, about 10-30% of unionized public sector employees will decline to pay dues or fees. This is only speculation, but our candid discussions with union officials and others knowledgeable about such things leads us to believe that this estimate is on the low side. We estimate that more than 1/3 over time will opt out. This is a big hit for unions.
NLRB Announces Opportunity for Voluntary Early Retirement and Separation for Select Agency Positions
The NLRB announced on August 7th an early retirement program for staffers. Click here for the press release. This is significant. We have been talking about what is going on at the NLRB for years. The traditional caseload of union organizing petitions and unfair labor practice charges has been down for quite some time because of slumping private sector union activity and dwindling union membership. The resultant diminished treasuries have made unions less and less active and, thus, fewer NLRB cases. The NLRB has been propping itself up by taking on cases using questionable theories of protected concerted activity. This has involved issuing complaints on discharges when no union activity whatsoever was involved, flyspecking employee handbooks, and challenging employer – employee arbitration agreements. Finally, the new pro-business Board majority is addressing this issue of an overstaffed government agency.
If any of you have thoughts or comments or suggestions for other commentaries, contact me at (630) 377-1554 or by e-mail at riwessels@wesselssherman.com
Stay up-to-date about developments in the Midwest
Contact us at any of our four Midwest locations
Schedule your confidential consultation
Contact Wessels Sherman if you would like to speak with one of our experienced labor and workplace attorneys, contact any of our four office locations and schedule a consultation.