Protecting Employers Since 1985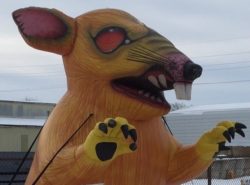 Construction Industry Labor Law
Construction industry labor law is very different from regular labor law. The labor agreements are different, and there is often no negotiating by employers who are stuck with an area-wide, multi-employer contract. The organizing process is typically different. Usually there are not NLRB elections and unions will attempt to organize by putting pressure on the employer at job sites. This usually takes the form of picketing, inflatable rats, and banners, and sometimes more aggressive tactics.
Construction industry employers can extricate themselves from these types of contracts, but special expertise is needed to accomplish this. Very few attorneys have the knowledge and experience to do this properly. Wessels Sherman has attorneys who can help construction industry employers in tricky situations with unions. Mr. Wessels has several information packets that he uses in meetings with clients that he would be happy to share with employers. Below are some of the informative packets he uses.
Multi-Employer Pension Liability
Union Trust Fund Audits
Dealing with Construction Industry Picketing
Double-Breasting
Why Construction Industry Labor Law is so Different
Ousting a Construction Industry Union
Prevailing Wage Laws
Contact him for more information and he will email it to you, naturally on a complementary basis.
Stay up-to-date about developments in the Midwest
Contact us at any of our four Midwest locations
Schedule your confidential consultation
Contact Wessels Sherman if you would like to speak with one of our experienced labor and workplace attorneys, contact any of our four office locations and schedule a consultation.